LET THE GOOD TIMES ROLL!
Tony Mart Presents. . . . Music Food and Fun!

New Time! Saturdays 12noon to 1pm ~ Radio WPG 1450AM or 104.1FM

View This Week's Line-up... Listen Live... (System requirements may apply.)
The Musical Joy of The Tony Mart Legacy, Celebrations of Culinary Excellence,
Developments in the latest Nightlife Indulgences... Learn More...

LET THE GOOD TIMES ROLL AT 12NOON EVERY SATURDAY STARTING JULY 23, 2016
WPG 1450AM AND 104.1FM has requested a schedule modification so Tony Mart Presents Music, Food, Fun, Travel & Community Professionals will now begin at 12noon for one hour through 1pm every Saturday beginning this Saturday.
We are very grateful for the support and the appreciation for the show expressed to co-host Chef Richard Spurlock and Carmen Marotta here at Tony Mart Presents.
We will continue to "Keep it Real" and talk serious fun about food, music and travel while supporting the community professionals that make it possible for all of us.
Let the Good Times Roll!


June 17th through September 9th
Let the good times roll this summer with
14 phenomenal shows.

Learn More
Save The Date!
October 1, 2016: Circle Liquor & Tony Mart Presents The 3rd Annual "Rocktoberfest" Craft Beer & Wine Fest featuring a free concert: "Tribute to the Classic Rock Guitarists" performed by Danny Eyer & "Ernie T" Trionfo and their band.
Place Your Order Now...


$20 plus $3 Shipping.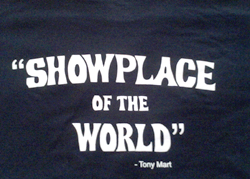 Back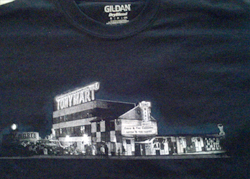 Front
Tony Mart T-Shirts Are Now Available!



Tony Mart - Copyright © 2008 Tony Mart. All rights reserved. Revised:

.

Web Site by Comments to: